php - Limit characters in Ninja Forms
php - Limit characters in Ninja Forms
Get the solution ↓↓↓
Solution:
Kindly check to see if you have enabled Dev Mode by setting it to on, you can find out how to do this here: https://ninjaforms.com/docs/developer-mode/
In your Wordpress Admin Dashboard go to Dashboard > Ninja Forms > Settings and look for Form Builder "Dev Mode" to see if checkbox is ticked.
Return to your forms and then click on the form field where you want to limit characters or words.
In the options menu, you should see RESTRICTIONS and in the dropdown, options to limit characters or words.
Apply your settings includingTEXT TO APPEAR AFTER COUNTER which is customizable and will be displayed on your form. e.g. 200 Character(s) remaining
Once completed, click Done, Preview your form to confirm changes and then Publish.
Find out more here under paragraph text: https://ninjaforms.com/docs/field-types/#html
---
---
Source
Share
---
Didn't find the answer?
Our community is visited by hundreds of web development professionals every day. Ask your question and get a quick answer for free.
---
Similar questions
Find the answer in similar questions on our website.
Write quick answer
Do you know the answer to this question? Write a quick response to it. With your help, we will make our community stronger.
---
About the technologies asked in this question
PHP
PHP (from the English Hypertext Preprocessor - hypertext preprocessor) is a scripting programming language for developing web applications. Supported by most hosting providers, it is one of the most popular tools for creating dynamic websites. The PHP scripting language has gained wide popularity due to its processing speed, simplicity, cross-platform, functionality and distribution of source codes under its own license.
https://www.php.net/
HTML
HTML (English "hyper text markup language" - hypertext markup language) is a special markup language that is used to create sites on the Internet. Browsers understand html perfectly and can interpret it in an understandable way. In general, any page on the site is html-code, which the browser translates into a user-friendly form. By the way, the code of any page is available to everyone.
https://www.w3.org/html/
---
---
Welcome to
webdevask.com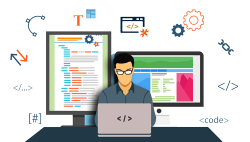 Welcome to the Q&A site for web developers. Here you can ask a question about the problem you are facing and get answers from other experts. We have created a user-friendly interface so that you can quickly and free of charge ask a question about a web programming problem. We also invite other experts to join our community and help other members who ask questions. In addition, you can use our search for questions with a solution.
Get answers to specific questions
Ask about the real problem you are facing. Describe in detail what you are doing and what you want to achieve.
Help Others Solve Their Issues
Our goal is to create a strong community in which everyone will support each other. If you find a question and know the answer to it, help others with your knowledge.