php - HTTP 500 response and white screen while trying to deploy laravel 8 app to hostinger shared hosting
php - HTTP 500 response and white screen while trying to deploy laravel 8 app to hostinger shared hosting
Get the solution ↓↓↓
The title sums up my issue. I'm deploying to shared hosting by uploading my files (exceptmylaravelproject/public/ to the root directory, and the contents ofmylaravelproject/public/ topublic_html/.
I've already tried the following:
Configuringindex.php to point to the correct folder in root
Runningcomposer install andnpm install in the relevant directory
php artisan key:generate
php artisan cache:clear andphp artisan config:clear
composer dump-autoload
Configuring.env and changing the relevant fields:APP_URL and database related ones
I'm still met with a white screen and an HTTP 500 error. What should I do?
---
---
Answer
Solution:
Whoops! I was able to solve it on my own somehow. Thanks to everyone who replied still.
For anyone having similar issues:
Start by adding the following to the top ofindex.php:
ini_set('display_errors', '1');
ini_set('display_startup_errors', '1');
error_reporting(E_ALL);

Turns out hpanel / hostinger's directory structure is weird, andpublic_html/ from the file manager is actually a shortcut to a folder not directly under root. Here's what it actually looks like:
/
| - domains
    | - yourdomainname.com
        | - public_html
            | - index.php

So unlike most guides out there, relevant directories underindex.php need to be changed to something like__DIR__.'/../../../laravelinrootname/storage/framework/maintenance.php'
Link to answer
---
---
Answer
Solution:
Enable debugger to know the issue
inside Config/App.php change
'debug' => env('APP_DEBUG', false)

to
'debug' => env('APP_DEBUG', true)

& in .env makeAPP_DEBUG= true
APP_ENV=local
APP_DEBUG=true

Link to answer
---
---
Source
Share
---
Didn't find the answer?
Our community is visited by hundreds of web development professionals every day. Ask your question and get a quick answer for free.
---
Similar questions
Find the answer in similar questions on our website.
Write quick answer
Do you know the answer to this question? Write a quick response to it. With your help, we will make our community stronger.
---
About the technologies asked in this question
PHP
PHP (from the English Hypertext Preprocessor - hypertext preprocessor) is a scripting programming language for developing web applications. Supported by most hosting providers, it is one of the most popular tools for creating dynamic websites. The PHP scripting language has gained wide popularity due to its processing speed, simplicity, cross-platform, functionality and distribution of source codes under its own license.
https://www.php.net/
Laravel
Laravel is a free open source PHP framework that came out in 2011. Since then, it has been able to become the framework of choice for web developers. One of the main reasons for this is that Laravel makes it easier, faster, and safer to develop complex web applications than any other framework.
https://laravel.com/
HTML
HTML (English "hyper text markup language" - hypertext markup language) is a special markup language that is used to create sites on the Internet. Browsers understand html perfectly and can interpret it in an understandable way. In general, any page on the site is html-code, which the browser translates into a user-friendly form. By the way, the code of any page is available to everyone.
https://www.w3.org/html/
---
---
Welcome to
webdevask.com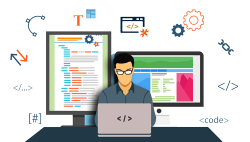 Welcome to the Q&A site for web developers. Here you can ask a question about the problem you are facing and get answers from other experts. We have created a user-friendly interface so that you can quickly and free of charge ask a question about a web programming problem. We also invite other experts to join our community and help other members who ask questions. In addition, you can use our search for questions with a solution.
Get answers to specific questions
Ask about the real problem you are facing. Describe in detail what you are doing and what you want to achieve.
Help Others Solve Their Issues
Our goal is to create a strong community in which everyone will support each other. If you find a question and know the answer to it, help others with your knowledge.