php - Yii2 grid view not responsive
php - Yii2 grid view not responsive
Get the solution ↓↓↓
i have grid view and add clas table responsive like this
<div class="card-box table-responsive">
        <?= GridView::widget([
            'dataProvider' => $dataProvider,
            'options' => ['class' => 'table-responsive'],
            'columns' => [
                ['class' => 'yii\grid\SerialColumn'],

                'id',
                'username',
                'kode_role',
                'kode_karyawan',
                'auth_key',
                'password_hash',
                'password_reset_token',
                'email:email',
                [
                    'header' => 'status',
                    'format' => 'raw',
                    'value' => function($dataProvider){
                        if($dataProvider->status == '5') {
                            return'<span class="btn btn-xs btn-warning">Tidak Aktif</span>';
                        }elseif ($dataProvider->status == '10') {
                            return '<span class="btn btn-xs btn-success">Aktif</span>';
                        }
                    }
                ],
                'created_at',
                'updated_at',
                'verification_token',
            ],
        ]); ?>


    </div>

please don't mind about what i show on grid view, i just show many of them for test responsive on mobile, but the result still not responsive on mobile like this picture link what's wrong with my code? sorry for my bad English.
Update i delete the hash and the other that have many character and stil like this update
---
---
Answer
Solution:
i've found answer on https://stackoverflow.com/a/32013813/16340676
"The reason for the bug is that bootstrap gives table-responsive styles of width: 100% and overflow-y: hidden. These two styles do not play nice together. Overflow hiding works best when there is a fixed or max-width. I gave table-responsive a max-width: 270px; for mobile devices, and that fixed the bug."
the solution just add a max-width in my table-responsive css
Link to answer
---
---
Source
Share
---
Didn't find the answer?
Our community is visited by hundreds of web development professionals every day. Ask your question and get a quick answer for free.
---
Similar questions
Find the answer in similar questions on our website.
Write quick answer
Do you know the answer to this question? Write a quick response to it. With your help, we will make our community stronger.
---
About the technologies asked in this question
PHP
PHP (from the English Hypertext Preprocessor - hypertext preprocessor) is a scripting programming language for developing web applications. Supported by most hosting providers, it is one of the most popular tools for creating dynamic websites. The PHP scripting language has gained wide popularity due to its processing speed, simplicity, cross-platform, functionality and distribution of source codes under its own license.
https://www.php.net/
Yii
Yii is a simple yet high performance generic component framework based framework. It is known for its high performance, but above all, it is famous for its simplicity. This framework appeared in December 2008. It allows you to use third-party code, and its Gii code generator allows you to quickly create basic structures from which you can build your own solutions.
https://www.yiiframework.com/
CSS
CSS (Cascading Style Sheets) is a formal language for describing the appearance of a document written using a markup language. It is mainly used as a means of describing, decorating the appearance of web pages written using HTML and XHTML markup languages, but can also be applied to any XML documents, such as SVG or XUL.
https://www.w3.org/TR/CSS/#css
Bootstrap
Bootstrap is not exclusively a CSS framework, but its most popular features are CSS-centric. These include a powerful grid, icons, buttons, map components, navigation bars, and more.
https://getbootstrap.com/
---
---
Welcome to
webdevask.com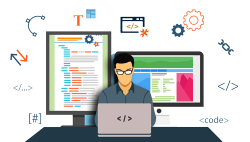 Welcome to the Q&A site for web developers. Here you can ask a question about the problem you are facing and get answers from other experts. We have created a user-friendly interface so that you can quickly and free of charge ask a question about a web programming problem. We also invite other experts to join our community and help other members who ask questions. In addition, you can use our search for questions with a solution.
Get answers to specific questions
Ask about the real problem you are facing. Describe in detail what you are doing and what you want to achieve.
Help Others Solve Their Issues
Our goal is to create a strong community in which everyone will support each other. If you find a question and know the answer to it, help others with your knowledge.