mysql - PHP foreach with resetting lastInsertId breaks the loop
Get the solution ↓↓↓
I have a JSON data being sent to a php script. If there is more than one items in the array want to link them together in the parent field. First item's id should be taken for this and filled all the following items.
Table definition:
| id | parent | quantity | html |
| --- | --- | --- | --- |
| 2 | 1 | 3 | Product 2 |
| 1 | null | 2 | Product 44 |
---
---
Answer
Solution:
Finally, I found that the column had unique flag switched on and was refusing duplicates in this table. Hence only 2 items were inserted.
I changed my PDO details to this to discover the error:
array(PDO::ATTR_ERRMODE => PDO::ERRMODE_EXCEPTION)

Link to answer
---
---
Answer
Solution:
You're not resetting$parent to be null at the start of each loop, or if thats not wanted you're giving it the wrong ID.
Your line initially works here$pdo->prepare($sql)->execute([$parent,$i->count,$i->item]); because $parent is null.
but the next time it runs your$parent = $pdo->lastInsertId();
your$sql query being built outside of the loop is now getting the wrong ID.
Also, your $key == 0 that will only run on the first loop, so it doesn't actually have a lastInsertId anyway.
Im reading this to understand more: LAST_INSERT_ID() MySQL
Link to answer
---
---
Source
Share
---
Didn't find the answer?
Our community is visited by hundreds of web development professionals every day. Ask your question and get a quick answer for free.
---
Similar questions
Find the answer in similar questions on our website.
Write quick answer
Do you know the answer to this question? Write a quick response to it. With your help, we will make our community stronger.
---
About the technologies asked in this question
PHP
PHP (from the English Hypertext Preprocessor - hypertext preprocessor) is a scripting programming language for developing web applications. Supported by most hosting providers, it is one of the most popular tools for creating dynamic websites. The PHP scripting language has gained wide popularity due to its processing speed, simplicity, cross-platform, functionality and distribution of source codes under its own license.
https://www.php.net/
MySQL
DBMS is a database management system. It is designed to change, search, add and delete information in the database. There are many DBMSs designed for similar purposes with different features. One of the most popular is MySQL. It is a software tool designed to work with relational SQL databases. It is easy to learn even for site owners who are not professional programmers or administrators. MySQL DBMS also allows you to export and import data, which is convenient when moving large amounts of information.
https://www.mysql.com/
HTML
HTML (English "hyper text markup language" - hypertext markup language) is a special markup language that is used to create sites on the Internet. Browsers understand html perfectly and can interpret it in an understandable way. In general, any page on the site is html-code, which the browser translates into a user-friendly form. By the way, the code of any page is available to everyone.
https://www.w3.org/html/
---
---
Welcome to
webdevask.com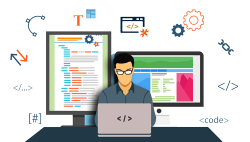 Welcome to the Q&A site for web developers. Here you can ask a question about the problem you are facing and get answers from other experts. We have created a user-friendly interface so that you can quickly and free of charge ask a question about a web programming problem. We also invite other experts to join our community and help other members who ask questions. In addition, you can use our search for questions with a solution.
Get answers to specific questions
Ask about the real problem you are facing. Describe in detail what you are doing and what you want to achieve.
Help Others Solve Their Issues
Our goal is to create a strong community in which everyone will support each other. If you find a question and know the answer to it, help others with your knowledge.