php - mysql to html table where the user can select a single listing
Get the solution ↓↓↓
is there a way for me to create a button that will pass the data from a single row of table into a new page. The table was created from data queried from mysql database.
---
---
Answer
Solution:
Short answer: Yes, there is a way.
Here 's a short example.
<a href="edit.php?id=<?= htmlspecialchars($row['id']) ?>" class="css-button">Details</a>

This is a html a-element. Its href attribute links to a fileedit.php in your current directory. The link takes a parameter called "id" which is the primary key of your rowset from the database. You can style this a-element with css so it can look like everything. In the best case you style it as a button.
<?php
// edit.php content
$id = intval($_GET['id']);
$sql = "SELECT id, username, bla, blubb FROM user WHERE id = :id";

$pdo = new PDO(...); // new pdo instance with database credentials
$stmt = $pdo->prepare($sql);
$stmt->execute(['id' => $id]);

$row = $stmt->fetch();
// continue with additional processing ...

The above shown code takes the id parameter and validates it as an integer value. Then you select the rowset by the primary key (id parameter) with the native php classPDO, respectivePDOStatement. The only thing you have to do on your own is checking, if the database result from the fetch method isfalse. That 's all.
Link to answer
---
---
Source
Share
---
Didn't find the answer?
Our community is visited by hundreds of web development professionals every day. Ask your question and get a quick answer for free.
---
Similar questions
Find the answer in similar questions on our website.
Write quick answer
Do you know the answer to this question? Write a quick response to it. With your help, we will make our community stronger.
---
About the technologies asked in this question
PHP
PHP (from the English Hypertext Preprocessor - hypertext preprocessor) is a scripting programming language for developing web applications. Supported by most hosting providers, it is one of the most popular tools for creating dynamic websites. The PHP scripting language has gained wide popularity due to its processing speed, simplicity, cross-platform, functionality and distribution of source codes under its own license.
https://www.php.net/
MySQL
DBMS is a database management system. It is designed to change, search, add and delete information in the database. There are many DBMSs designed for similar purposes with different features. One of the most popular is MySQL. It is a software tool designed to work with relational SQL databases. It is easy to learn even for site owners who are not professional programmers or administrators. MySQL DBMS also allows you to export and import data, which is convenient when moving large amounts of information.
https://www.mysql.com/
CSS
CSS (Cascading Style Sheets) is a formal language for describing the appearance of a document written using a markup language. It is mainly used as a means of describing, decorating the appearance of web pages written using HTML and XHTML markup languages, but can also be applied to any XML documents, such as SVG or XUL.
https://www.w3.org/TR/CSS/#css
HTML
HTML (English "hyper text markup language" - hypertext markup language) is a special markup language that is used to create sites on the Internet. Browsers understand html perfectly and can interpret it in an understandable way. In general, any page on the site is html-code, which the browser translates into a user-friendly form. By the way, the code of any page is available to everyone.
https://www.w3.org/html/
---
---
Welcome to
webdevask.com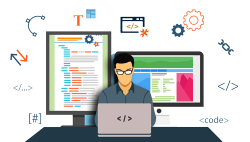 Welcome to the Q&A site for web developers. Here you can ask a question about the problem you are facing and get answers from other experts. We have created a user-friendly interface so that you can quickly and free of charge ask a question about a web programming problem. We also invite other experts to join our community and help other members who ask questions. In addition, you can use our search for questions with a solution.
Get answers to specific questions
Ask about the real problem you are facing. Describe in detail what you are doing and what you want to achieve.
Help Others Solve Their Issues
Our goal is to create a strong community in which everyone will support each other. If you find a question and know the answer to it, help others with your knowledge.