javascript - How to load more than 1500 products in a page without pageloading?
javascript - How to load more than 1500 products in a page without pageloading?
Get the solution ↓↓↓
I am adding SEO for Category Page which has more than 1500 products in a category I don't want to put pagination Or any kind of ajax which will load few products and then on page scroll load the next products IS there any way to load all product without letting the user know that page Is loading?
---
---
Answer
Solution:
Please be careful, you will have a lot of performance penalties when loading 1500 products on a single request and that will affect your customer's browser (frozen, crashed, etc).
If it's for SEO only I think you can load them at once but using CSS to hide most of them from the view (only show 20-40 products for example). It's still available in HTML code but the client doesn't see them and performance still good.
Whenever they want to see more products, just toggle some CSS classes to show them but using lazy load or pagination to fake the loading.
Link to answer
---
---
Source
Share
---
Didn't find the answer?
Our community is visited by hundreds of web development professionals every day. Ask your question and get a quick answer for free.
---
Similar questions
Find the answer in similar questions on our website.
Write quick answer
Do you know the answer to this question? Write a quick response to it. With your help, we will make our community stronger.
---
About the technologies asked in this question
JavaScript
JavaScript is a multi-paradigm language that supports event-driven, functional, and mandatory (including object-oriented and prototype-based) programming types. Originally JavaScript was only used on the client side. JavaScript is now still used as a server-side programming language. To summarize, we can say that JavaScript is the language of the Internet.
https://www.javascript.com/
CSS
CSS (Cascading Style Sheets) is a formal language for describing the appearance of a document written using a markup language. It is mainly used as a means of describing, decorating the appearance of web pages written using HTML and XHTML markup languages, but can also be applied to any XML documents, such as SVG or XUL.
https://www.w3.org/TR/CSS/#css
HTML
HTML (English "hyper text markup language" - hypertext markup language) is a special markup language that is used to create sites on the Internet. Browsers understand html perfectly and can interpret it in an understandable way. In general, any page on the site is html-code, which the browser translates into a user-friendly form. By the way, the code of any page is available to everyone.
https://www.w3.org/html/
---
---
Welcome to
webdevask.com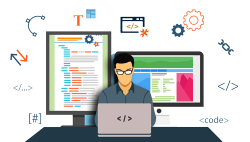 Welcome to the Q&A site for web developers. Here you can ask a question about the problem you are facing and get answers from other experts. We have created a user-friendly interface so that you can quickly and free of charge ask a question about a web programming problem. We also invite other experts to join our community and help other members who ask questions. In addition, you can use our search for questions with a solution.
Get answers to specific questions
Ask about the real problem you are facing. Describe in detail what you are doing and what you want to achieve.
Help Others Solve Their Issues
Our goal is to create a strong community in which everyone will support each other. If you find a question and know the answer to it, help others with your knowledge.